Boeing 737NG Emergency Evacuation Decals
For my Cockpit I produced also a new special Decals: the "Emergency Evacuation" label, which is very useful for cabin decoration. I make several extra sheets and now are available for sale.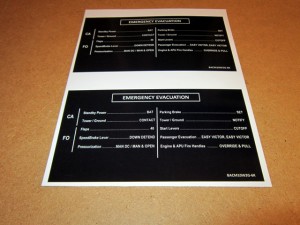 If you are interested to have it, please contact me at info@737homecockpit.com for more details and price.
General Description and Characteristics:
Like the Original 737 NG Cockpit Stickers
Printed with Professional Laser Color Printer and plasticised on special adesive paper
High Quality Materials with Professional Adhesion and Lamination Process
Set composed by 2 Decals to be used for the Chart Holder, which is also available separately
Useful for Cockpit Decoration
Nice to have